Keep Your Property Clean with Our Parking Lot Sweeping Services
The best commercial parking lot sweeping service provider in Southern California
Contact Us
Our Reviews
Get Your Free Estimate Today!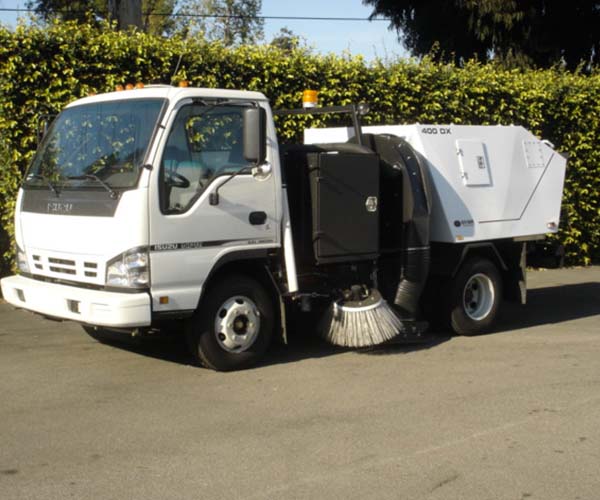 West Coast Property Maintenance offers professional parking lot sweeping services for all kinds of businesses. Businesses with drive-thrus contain a lot of vehicle traffic which can create wear and tear on the concrete, siding and surrounding areas.
Drive-thrus can quickly get tarnished with all kinds of contaminants. Graffiti can be removed, in most cases, completely. (With some paint, a faint shadowing may be visible.) Regular professional power sweeps keep your establishment safe and clean for your customers. Weekly, monthly, quarterly or bi-annual regular maintenance of the business exterior will keep it in tip-top shape. Keep your commercial property's curb appeal top notch!
Parking Lot Sweeping Services
West Coast Property Maintenance offers professional power sweeping services for commercial parking lots, and pressure washing for parking garages.
Parking spaces are often known for being dark, damp and dirty places, and WCPM can provide regular professional pressure sweeping services to keep your parking areas clean and safe from trip hazards. Dirt and debris beds deep into concrete and can make it hard to remove.
WCPM power sweeping services can loosen gum, grime build-up and more, ensuring customers are safe walking into the establishment.
WCPM provides parking lot sweeping cleaning services for all kinds of establishments such as:
Hospital/Medical Buildings
Municipal Parking Lots
Parking Facilities​
Shopping Malls
Strip Centers
Our team at West Coast Property Maintenance also offers scheduled parking lot cleaning that includes 7-day sweeping programs for retail businesses, indoor warehouses, and parking lot maintenance. Daily lot sweeping helps to keep trash and debris off your property and curb appeal is maintained. We run Night Hawk trucks with GPS tracking to give you up-to-date reviews on your property.
The Benefits of Power Sweeping
While the aesthetic benefit of a clean parking lot is evident, there are many more reasons to maintain this important piece of land. Let's take a look at just a few of the benefits of parking lot sweeping.
Capitalizes on the First Impression
What does your parking lot say about your business, apartment building, or municipality? Everything.
Customers, potential tenants, and visitors pull into a parking lot, get out of their vehicles, and look around the parking area. Parking lot cleanliness is their first impression—and, if not maintained well, it may be their last.
For first-time visitors, dirty or disheveled parking surfaces with bits of discarded wrappers, cups, and trash lying around leaves the impression that this might not be such a safe neighborhood. They wonder if the stores are maintained with the same kind of care. If they're tenants considering a rental, travelers looking for a room, or diners looking for a place to eat, you can bet that many will be moving on to your competitor down the street.
If you are leasing retail, restaurant, or office space, the maintenance of the parking lot may very well determine if a potential client chooses your company to do business with. Most professionals in the customer service industry understand all too well about first impressions and their fiscal impact.
Prevents Erosion and Increases Longevity of Asphalt
Dirt, gravel, sand, and oil collect on an uncleaned parking lot surface. Then, cars drive over the debris, grinding it into the pavement which acts like an abrasive and quickly deteriorates the surface. Instead of a regular parking lot sweeping, you're faced with serious upkeep or major overhauls.
Another common parking lot upkeep issue we see is lots that allow dirt buildup and crack formations. This allows plants to start growing in the dirt and cracks, eventually producing roots that increase the teardown of cement and asphalt.
Commercial power sweeping is definitely more cost-effective than patching up pavement breakdowns.
Prevents Slip-and-Fall Accidents
Did you know that as many as 500 pedestrians and drivers die every year in parking spaces? While most of these are due to distracted drivers, there is a percentage of injuries caused by water buildup, potholes, and tripping hazards.
Parking lots that are not maintained also buildup oil and grime, leaving slippery surfaces that result in potential slip-and-fall accidents.
Scheduling a regular parking lot sweeper keeps debris to a minimum and allows for adequate drainage. Protecting your customers as well as your assets is a good business decision.
Promotes Environmental Health
Debris that's left on our streets and parking garages may eventually be carried away by the rain and find its way into storm drains. These items then work their way into local waterways, including streams, lakes, and oceans.
Stormwater runoff has been shown to contain garbage, chemicals, pesticides, and bacteria. Fast food wrapper, styrofoam cups, and construction debris all make it into waterways. One study conducted in Santa Monica Bay found that people who swam in front of flowing storm drains were 50% more likely to develop specific symptoms.
A regularly scheduled sweeping service ensures that you and your company are doing all you can to minimize pollutants in stormwater and helping create a better environment for both people and animals.
Prevents Rodent Infestation
Rats and mice search for food and shelter. Like other animals, it's simply a part of their internal makeup. Unfortunately, a good place for them to find these articles is in parking spaces and lots with discarded trash and holes that make for perfect hiding places.
These rodents nest, chew holes, scare customers, and create an unhealthy environment. Once they've established their territory, they are difficult to remove. Instead of regular parking lot sweeping, you're calling in the pest company for major pest removal applications.
So, how do you keep these problems from occurring? Simply schedule regular commercial power sweeping.
The Recommended Schedule for Parking Lot Sweeping
There are several factors that determine the right schedule for a parking lot sweeper. These include the type of businesses on the property and in the area, how the lot is maintained between sweeps, the condition of the pavement, and the number of trees in the area.
At WCPM, we pride ourselves on our customer service and would be happy to discuss options after taking a look at your property.
Why Should You Hire Us to Power Sweep Your Parking Lot?
Simply put, we respond quickly. If you have a need that must be met on a short time schedule, we can work with you to get your timetable met and get your parking areas looking great fast. We are locally owned and operated. Because of this, we give you the personal service and attention your business deserves.
If you've never looked into parking lot sweeping services, now is the time to do so. Investing in the right parking space sweeper will transform your parking area pavement overnight, resulting in thorough guest safety and potentially even increased customer retention.
West Coast Property Maintenance offers its commercial power sweeping services in Orange County, LA and the surrounding areas. Customer satisfaction is our ultimate goal. For a parking lot sweeping estimate, or if you'd simply like more information about our parking lot sweepers services, call our team at WCPM today. West Coast Property Maintenance offers other services such as professional commercial junk removal services in Orange County, Los Angeles
Our Experts Can Help!
We are so sure that we make a difference that we offer a 100% customer satisfaction guarantee. Why wait? Let us make your property more beautifully clean today.
What is a parking lot sweeper?
A large truck with a very large vacuum mounted on it.
How do you clean a parking lot?
By driving a sweeper on a lot and vacuuming all the trash on the lot.
How much does it cost to sweep a parking lot?
Price are based on hourly rates but vary with how big the lot is.