Residential Pressure Washing in Orange County
The best residential pressure washing service provider in Southern California
Contact Us
Our Reviews
Get Your Free Estimate Today!
Home Pressure Washing and Steam Cleaning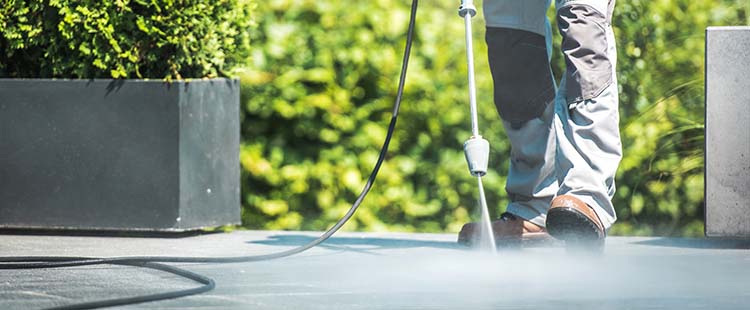 West Coast Property Maintenance offers your home like-new results without an investment that comes with a brand new exterior cost. Give us a call for a free estimate.
Residential Pressure Washing, Window Cleaning, Roof Cleaning, Gutter Cleaning, and more
Is the exterior surfaces of your property starting to look shabby, outdated, and dirty? Any dirt or grime on your home, patio, roof, concrete driveway and more will be removed by our residential pressure washing services! Our specialists use specialized soft wash and power wash tools that let them to change the pressure to the ideal level for your home.
We advise against attempting to pressure wash your house on your own. You run the risk of accidentally damaging your property if you lack the necessary tools, cleaning solution, and expertise.
Our soft wash system gently washes away years of unsightly buildup to reveal a clean, "like new" home exterior. Home pressure washing is an effective way to increase the value of your home. Power Washing removes dirt, and debris off the house siding. Our quality soft wash system heightens curb appeal, and is quick and affordable. Our professional grade equipment keeps pressure settings and water flow more precise and minimizes the opportunity for error. Soft washing is a safe, eco-friendly chemically effective way to maintain your exterior for a longer time-frame.
The California weather creates an ideal habitat for spore-bearing bacteria, which results in those dark stains you see on siding. These streaks diminish the home"s look, but they can also cause your exterior to deteriorate.
Our Experts Can Help!
Our team of professional pressure washers are so sure that we make a quality service. We are known for our customer service with a 100% customer satisfaction guarantee. Why wait? Let us make your property more beautifully clean today.
How much is the cost of pressure washing for your entire home?
Power washing a property typically costs homeowners between $130 and $650, with the average cost coming in at slightly over $350. But the specific price that you spend will depend on various other aspects. For example, a one-story home normally costs around $1 per square foot to pressure wash.
What differentiates pressure washing and power washing services?
The primary distinction between the two cleaning methods is that pressure washers merely uses hot tap water without the use of a heating element, whereas power washers uses highly pressurized steam.
Will a high pressure wash damage my home?
The erosion of the surface is one of the major disadvantages of employing more pressure when cleaning a house. It can be harmed during the cleaning procedure whether the surface is made of brick, vinyl, or another material.
Is power washing safe for the environment?
Yes, and compared to wide range of cleaning techniques, it is often more environmentally friendly. Since experts frequently only use water to clean, there is no risk of hazardous chemicals or runoff into the ground.
How frequently should I pressure wash my house?
In general, we advise pressure wash your house once a year, although this depends on the area, the local seasons, and the pollutants adjacent to your particular home. A common practice among homeowners is to power wash every part of their house at once in the late summer. The high humidity of summers makes it more likely for mold and mildew to grow in a variety of areas. Power washing aids in getting rid of harmful fungi, making the house healthier and cleaner.