Commercial Pressure Washing Services in Orange County
The best commercial pressure washing service provider in Southern California
Contact Us
Our Reviews
Get Your Free Estimate Today!
The Best Power Washing Service For Your Property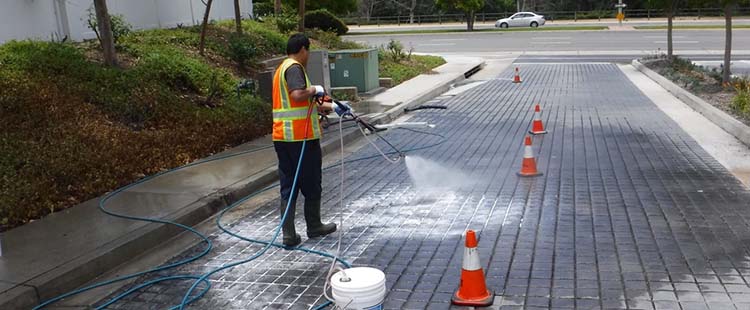 West Coast Property Maintenance offers the best professional commercial pressure washing services for your commercial storefront establishment and parking areas. The cleanliness of your commercial building — whether it be a storefront, office, or warehouse — should be a top priority.
The ocean effects in Southern California can have deteriorating effects on the exterior of your commercial buildings. As water pressure washers, we pride ourselves on ensuring that your commercial property is sparkling clean, with our services extending to properties such as:
Retail Shopping Centers
Grocery Stores
Strip Malls
Industrial Complexes
In order to protect your investment and the value of your commercial property, WCPM can provide regular professional cold water pressure washers or hot water pressure washers. They will not only help make your property look aesthetically pleasing, but will also help keep your customers safe from build-up on your walkways, and most especially, your driveways.
WCPM is an insured company that can provide a professional washing system to help ensure positive first impressions of your business and continued patronage.
The Advantages of Professional Commercial Power Washing
A lot of grunt work goes into running a commercial business, making it easy to neglect the not-so-glamorous parts of keeping your property spic and span. Especially in commercial properties that house any sort of parking structure, like garages and parking buildings.
To that end, here are some of the advantages to power wash business' top pressure washing services that commercial properties should keep in mind.
Effective Graffiti Removers
One of the biggest problems that plague commercial storefronts is the presence of graffiti. Even just a few marks on the sidewalk (or even on your actual storefront) can tarnish your property's entire image and brand. Not to mention that it may bring serious doubts in safety in your parking areas.
What's worse, such stains can be difficult to remove without the proper equipment. If you try to remove the graffiti yourself, you risk damaging the building material that's underneath. WCPM, through the use of special detergents and commercial pressure washing equipment, can help a building look almost new.
Sidewalks are an important part of a store or property's curb appeal. Public sidewalks become very dirty over time, with stains, dirt, graffiti, and other items.
For parking garages and other parking structures, our trained pressure and power washer technicians rely on steam washing techniques to safely remove graffiti without damaging existing structures.
Improves Resale Value
Business owners have to think in the long-term if they want to be successful. While you might not be planning to sell your property just yet, having that possibility open to you can help you form a strategic business plan that maximizes your profits.
It therefore goes without saying that maintaining your property is essential in making sure your property gets sold down the line. For businesses who aren't planning on giving up their space anytime soon, scheduled cleanings are still important.
Pressure washers who visit your property regularly will not only be able to clean every nook and cranny of your property, but they'll also be able to give you tips on how you can maintain a stunning storefront on your own. Plus, they have the proper pressure washers accessories that will make their job easier and more effective.
Frees Up Your Time
Last but not least, hiring a professional commercial cleaning service means you won't have to worry about doing all the heavy lifting on your own. Of course, the keyword here is professional — you want to leave your building in the hands of trained cleaners with pressure washer trailers and water machines so that you can devote your time to other tasks.
It may be tempting to learn the ropes of pressure washing equipment on your own, but the problem is that such items require adequate training to be handled properly. And since you'll have to familiarize yourself with such equipment, you end up spending both your time and money on something that could have easily been delegated.
In the same way that you know the ins and outs of your operations, our team at WCPM has all the cleaning power, training, and skills necessary to complete a pressure washer cleaning to the highest standard.
Added Benefits of Commercial Pressure Washing
Whether ensuring the maintenance and upkeep of apartments, HOAs, retail businesses, industrial buildings, or nursing homes, commercial pressure washing provides multiple benefits to these types of properties. Here are just a few:
Boosts Curb Appeal
The curb appeal of your business or rental property is a strong determining factor in its success and occupancy rate. Many objects and organisms make their way to a building's walls, roofs, and, most especially, their pathways. Mildew, dirt, algae, spores, mold, bird droppings, and unwanted stains are simply a part of life in the 21st century.
Many think of curb appeal when they're selling their homes, but this extends to commercial properties as well. For a business, it defines a brand, its culture, and its efforts in caring for customers or tenants. It's the difference between a new customer walking in the doors or turning to your company competitor across the street.
Prevents Repairs
All the dirt and grime that sticks to a building and its driveways does more than turn away potential clients; it can also cause damage to the structure. Mold, algae, and even bird droppings can eat away at a building and weaken its infrastructure. A regular power wash prolongs a structure and keeps costly repairs at bay.
When you don't remove this debris regularly, it builds up over time and can become almost impossible to remove.
In these instances, many clients turn to repaint — a costly and unnecessary expense, especially considering that regularly scheduled pressure washers can attend to the debris before it causes damage or becomes embedded.
The price difference between painting your building or regularly scheduled commercial pressure washing is significant. But, like the preventative maintenance you use on your automobile and home, the cleaning power of pressure washing equipment can save you untold costs on extensive repairs.
Keeps Other Spaces Clean
Scheduling a regular pressure washer for a quick connection means cleaning more than just walls, roofs, and sidewalks. Grimes can accumulate on just about every object left out to face incremental weather. Parking lots, garages, awnings, and facades all benefit from the power of water and detergents.
Minimizes Health and Safety Risks
The accumulation of mildew, mold, and algae can have a detrimental effect on both client and employee health. In addition, these unhygienic conditions can lead to poor air quality and result in occupants coming down with allergies or asthma.
These same substances can accumulate on sidewalks and pathways, creating a smooth and sometimes slippery flat surface. As they build up over time, people may slip and fall, and injuries to customers or occupants are more likely to occur.
Professional power washing equipment gets rid of all of these irritants, removing the dangers and health risks.
Why Choose WCPM As Your Go-To Pressure Washing Company
Commercial pressure washing is an essential part of maintenance. But not all pressure washers are created equal. It uses up-to-date pressure wash equipment and the latest pressure washing techniques and cleaning solutions to produce the best results.
If not used correctly, commercial power washing can damage your property. Consumer pressure washers can reach about 2800 psi, while commercial pressure washers can reach over 4000 psi and 10 GPM (gallons per minute).
The PSI refers to the intensity of the pressure, and the GPM represents the flow rate or volume of water. Needless to say, that's a lot of pressure and water. That amount of pressure can strip paint, shred window screens, damage mortar and loosen brickwork, crack wood, damage window seals, dent vinyl siding, and pit concrete patios.
That amount of water can create mold, algae, and mildew growth from build-up beneath sidings. Make no mistake: commercial pressure washers can do a lot of damage if in the wrong hands, and you need to find trained professionals to handle such equipment.
Work With Top-Notch Power Washing Experts To Remove Build-up Dirt
With our pressure washing business, our professionally trained pressure washer technicians use top-quality pressure washing equipment. They know the right amount of pressure to use, the variety of nozzles for each different area and demand, the appropriate direction and sustained amount of pressure, the right flow or GPM, and the use of professional detergents.
We know our pressure washing business. In fact, we stand behind our commercial pressure washing services with a 100% satisfaction guarantee.
For more information on commercial pressure washing or to schedule a consultation with our professional pressure washers, contact WCPM today.
West Coast Property Maintenance offers commercial power washing services for apartment buildings and HOA communities. Regular pressure washing and maintenance of multi-unit common areas are beneficial to attracting new residents and customers. First impressions are usually made by the building's exterior appearance. A dirty exterior, or graffiti, may prompt questions for the safety of the community. WPCM offers soft wash services as a surface cleaner for the exterior of community buildings and no-pressure roof washing. WPCM can also power wash brick pavers, decks, fences, and patios for your community property.
WPCM offers soft power washing services to many different kinds of properties such as:
Apartment Buildings
Condos and Townhomes
HOA Communities
Assisted living communities
Nursing Homes
Commercial Power Washing – Service Areas
Our Experts Can Help!
We are so sure that we make a difference that we offer a 100% customer satisfaction guarantee. Why wait? Let us make your property more beautifully clean today.
What is commercial pressure washing?
It is a service to clean commercial properties either with electric-powered pressure washers or gas-powered pressure washers. In contrast to regular power washing, commercial pressure washing uses power washer and a particular cleaning solution that is ejected at high pressure without harming the building's beauty, the tremendous pressure drives the cleaning agent far into the concrete surfaces such as brick.
How much does commercial pressure washing cost?
Rates vary depending on the size and difficulty of the area or location.
What Can You Pressure Wash?
Pressure washers are very versatile cleaning tools, which means you can use them on a variety of surfaces. Here's some common surfaces below:
Driveways

Parking Garages

Gutter Cleaning

Home Exteriors

Stairs and walkways

Concrete or tile patios

Garage floors

Wood decks
Why Do You Need Commercial Building Pressure Washing?
If you're not using a professional pressure washing company, cleaning a huge facility is not a simple task. For cleaning the exterior surfaces of huge structures, you require pressure washers and pressure washing equipment. Finding and hiring the best commercial power washing services in your area is an alternative. You might spend a lot of money on commercial building pressure washing and outside building cleaning services in general.
Why Hire Wash Professionals?
Now that you know the benefits of pressure washing compared to regular pressure washing you may feel tempted to take a DIY approach to it. However, you can rent our professional services as they're best at what they do.
High Quality Property Maintenance
Not only will you be impressed, but your clients, guests, and tenants will know the WCPM difference! From San Diego to North and LA and all in between, we will be here for your needs.
Commercial Service Offerings
Steam Cleaning / Power Washing
Junk Removal & Trash Hauling
Residential Service Offerings
Steam Cleaning / Power Washing